NEW BLOCKS AND CAM-CLEATS
Seldén, the Swedish manufacturer of rigs and sail handling equipment, is expanding their deck hardware range by introducing an assortment of Soft-Attachment blocks, Ratchet blocks and Cam-cleats.
"The dinghy and keelboat segments are major parts of our operation and to constantly improve and develop our product range is in line with our vision to meet the demands from sailors and business partners", says Seldén's director of marketing Mr Mats-Uno Fredrikson.
These new product lines will be introduced and on display at METS, November 16-18.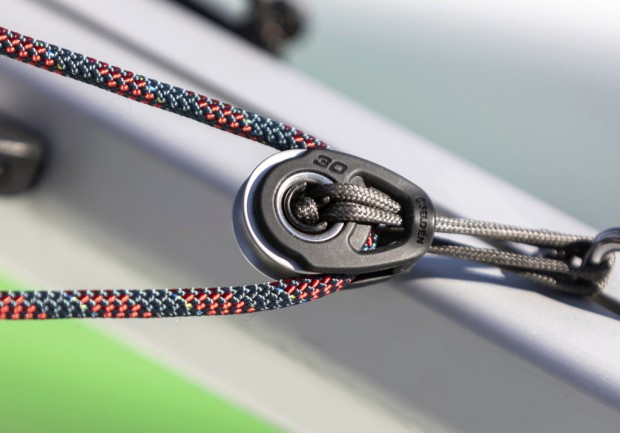 Soft-Attachment blocks
To replace stainless shackles by using textile lashings or loops is not a gamechanger itself, but Seldén has developed a neat way to fix the Dyneema® to the block by using an insert in the central hollow rivet and they offer a ready-made spliced loop as an option. This is a registered design (#6134080) of Seldén Masts Limited, UK and applies for the single block range which are available in two versions. The standard version features stainless steel ball bearings and an acetal sheave, whereas the upgrades version comes with Torlon® ball bearings and an aluminium sheave for higher workloads. Double blocks are available too and the range consists of blocks with ø20, 30 and 40 mm sheaves.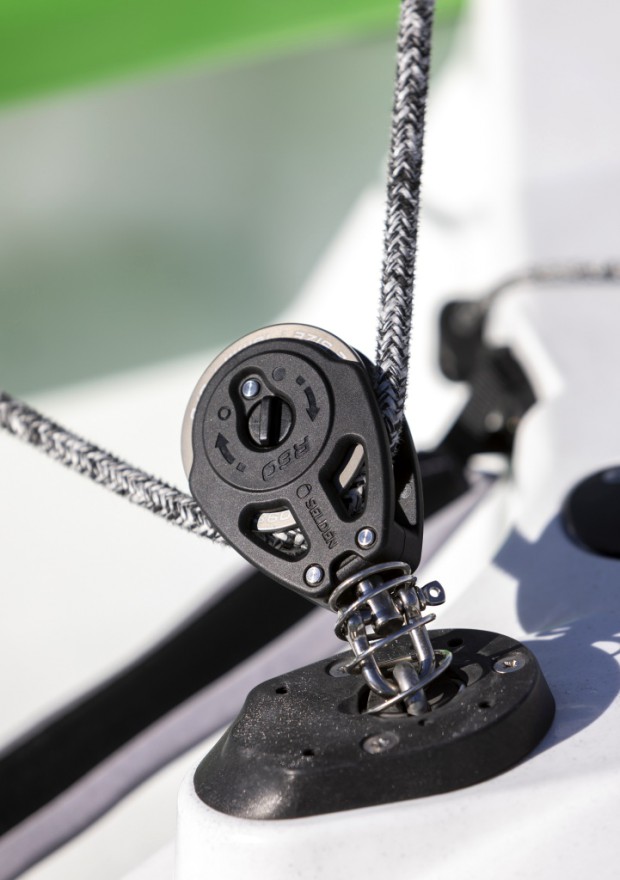 Ratchet blocks, R60
This is the second generation of manual ratchet blocks from Seldén and the focus has been to improve the grip and the switch. Ratchet blocks are mainly used for dynamic applications such as sheets on dinghies and keelboats and when the ratchet is activated it locks the sheave in one direction and allows the sailor to relax a bit without cleating the line. The new single block versions from Seldén are available either with a composite sheave or an aluminium sheave. The latter version makes for more grip and the ability to cope with relative thin lines.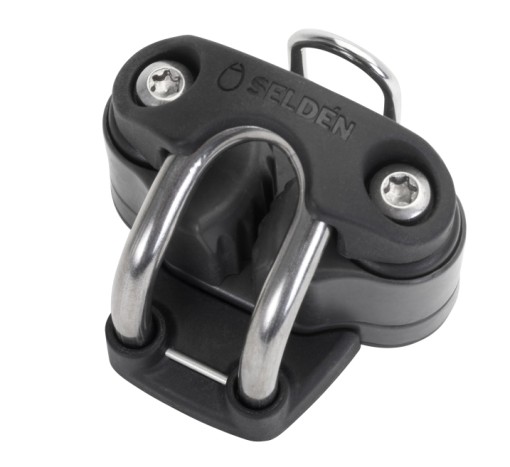 Cam-cleats, size 27 and 38
Seldén's range of cam cleats, both aluminium and composite, have been in action since 2008, but now a new generation will be appearing on the market. Designed to provide a wide range of benefits, the 38 mm cam cleat can be easily customised with stackable blade springs for tailored opening force. The combination of line guide and fairlead ensures the rope is fed the best possible way into the cams, aiding grip and reducing wear. New cam geometry allows better vertical line entry whilst increasing the active area of the teeth to maximise the grip potential. The aluminium cams provide improved line holding whilst the composite version reduces weight. All of this is packaged in the same footprint and standard hole spacings to provide a quick and easy change. The new cam cleats come in two sizes with hole spacing c-c 27 mm and 38 mm respectively.