BBB 20
BALL BEARING BLOCK
TECHNICAL FEATURES BBB 20
Stainless steel strap to ensure high strength and stiff sides.
Stainless steel ball bearing races and glass fibre reinforced sheave for best bearing strength even under high dynamic loads.
Glass fibre reinforced polyamide composite.
TECHNICAL FEATURES BBB 20 TIE ON AND CHEEK BLOCK
Glass fibre reinforced composite cheeks.
Acetal ball bearings for light weight.
Glassfibre reinforced sheave.
APPLICATIONS
Control lines on dinghies and keelboats.
Leech line applications on yachts.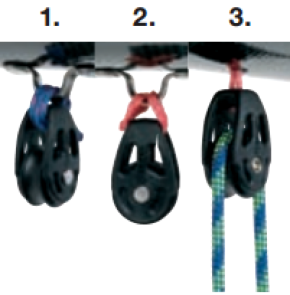 TIPS FOR FITTING BBB 20 TIE ON
BBB 20 tie on can be fitted in three different ways. Note that the safe working load of the block is reduced by 50% when the BBB 20 is fitted as in picture 3.