SNAP SHACKLE ADAPTERS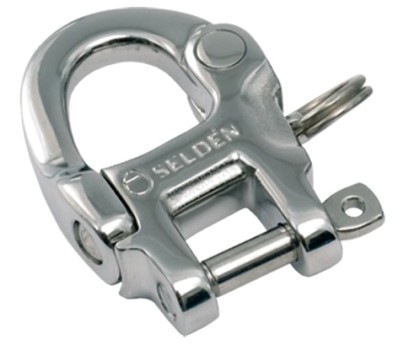 A brilliant solution for any application you want to attach and remove quickly, for example runners and check stays. Just replace the standard shackle with a snap shackle. The shackle is made of high strength Duplex 2205 stainless steel and has a quality mirror finish.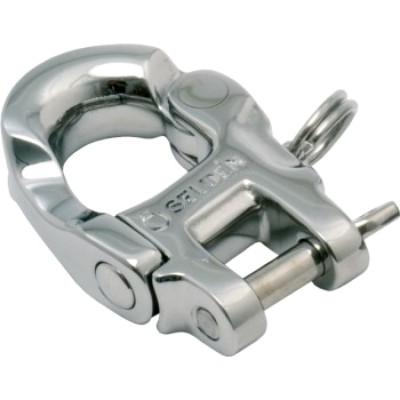 LOW FRICTION SHACKLE (307-XXX-XX)
This new snap shackle has a big, well rounded loop allowing the rope to slide with low friction. Compared to a regular snatch block, this shackle is lighter, easier to operate and lower cost. Typical applications are barber haulers for spinnaker and jibs but also to tension a Seldén CX with 2:1 purchase. This not only makes for better perform ance but it also makes it easier to connect the Seldén CX to a bowsprit, from the foredeck.

| Item No | Model | SWL (kg) | BRL (kg) | ØPin (mm) | W (mm) | L (mm) | Width (mm) | Height (mm) | ØA (mm) |
| --- | --- | --- | --- | --- | --- | --- | --- | --- | --- |
| 404-040-01 | SnapShackle | 550 | 1100 | 4 | 8 | 3 | 25 | 37 | 10 |
| 405-040-01 | SnapShackle | 900 | 1800 | 5 | 12 | 6 | 34 | 52 | 14 |
| 406-040-01 | SnapShackle | 1500 | 3000 | 6 | 13 | 6 | 41 | 61 | 16 |
| 408-040-01 | SnapShackle | 2500 | 5000 | 10 | 18 | 7 | 54 | 81 | 22 |
| 410-040-01 | SnapShackle | 4000 | 8000 | 12 | 22 | 9 | 66 | 100 | 26 |
| Item No | Model | SWL (kg) | BRL (kg) | ØPin (mm) | W (mm) | L (mm) | Width (mm) | Height (mm) | ØA (mm) |
| --- | --- | --- | --- | --- | --- | --- | --- | --- | --- |
| 307-436-01 | SnapShackleLead | 1500 | 3000 | 6 | 13 | 6 | 41 | 61 | 16 |
| 307-437-01 | SnapShackleLead | 2500 | 5000 | 10 | 18 | 7 | 53 | 81 | 22 |
| 307-438-01 | SnapShackleLead | 4000 | 8000 | 12 | 22 | 9 | 66 | 100 | 26 |
| 307-435-01 | SnapShackleLead | 900 | 1800 | 5 | 12 | 6 | 34 | 51 | 14 |